The year 1982 was a very bad year for Wayne and Phyllis Ryser.
Spring rains dumped 12 inches of rain in 24 hours on farm lands in Lower Bois d' Arc Creek. The best wheat crop they ever had up to that time, along with their income for that year and their hopes for paying off farm loans, was swept away in the flood. Things didn't look good for the Ryser family.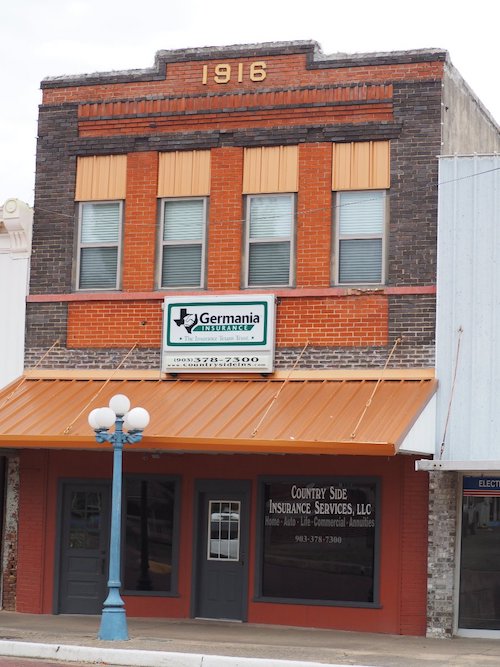 Fortunately, one of their landlords, who owned some of the flooded farm land, wanted to retire from managing a small local chapter of Germania Farm Mutual Insurance Company. The landlord asked Phyllis, who had taken a leave from teaching in public schools to be at home with her two small children, if she would be interested in the assuming the small business. Although she had no knowledge of insurance, or managing a business, Phyllis did not spend much time thinking it over before accepting the offer.
For the first two years the business was operated from the Ryser home. Then in 1984 it was moved to the Honey Grove square into a two story brick building built sometime before 1884, which around the turn of the century was occupied by the Tennessee saloon. The building was remodeled and Country Side Remains there to this day.
The agency, at first, insured mostly rural homes, country churches, farms, farm buildings, and farm equipment. It was known as Germania Farm Mutual Local Chapter 224. A Texas farm mutual company cannot write liability insurance, so the business was strictly limited to property insurance. In time as the as Germania Companies grew and acquired more sub-companies of auto, life, liability and commercial insurance more possibilities opened to the agency. Soon additional insurance carriers were added and additional lines of business became available to customers.
In 1998 after daughter, Maeta Ryser, graduated from college, she decided to return to Honey Grove and to the business she knew from childhood. Husband, Glenn Lee, a Florida native, she met in college, came to work with her in the agency as well. A few years later her brother, Nathan, also returned after college graduation. He, too, began writing auto insurance for the agency.
In 2003 the family incorporated the business and renamed it Country Side Insurance Services, LLC. For thirty plus years Country Side Insurance has been a mainstay business in Honey Grove. During those years the agency has received nineteen awards for superior performance and profitability. In 2014 Country Side Insurance agency was awarded the coveted Gold Star Award from Germania Companies. The Gold Star Award is given to the agency that is over all best in its district for profitability and service to customers.
Country Side Insurance is a fully automated agency able to conduct its operations with the sophistication of a large company yet still retain its small town friendliness. Country Side looks forward to many more years of service to its many satisfied customers.
Why do business with Country Side Insurance Services?
Unlike a captive, or direct insurance company who only offers their own proprietary products, our agency is 100% independent of any one company. Many insurance consumers don't fully understand just how important that really is.
When it comes to something as important as insurance, it's imperative that you work with an agency who has an in-depth knowledge of multiple insurance products, companies, and guidelines — not just one.
At the end of the day, what separates one agent from another, is their ability to proactively service their policy holders, and their knowledge of the insurance industry, products, and different situations that may present themselves to their clients.
Independent Agent Vs. The Rest
Here is a quick comparison of the differences between an independent agency like us, and the various other types of companies that are out there: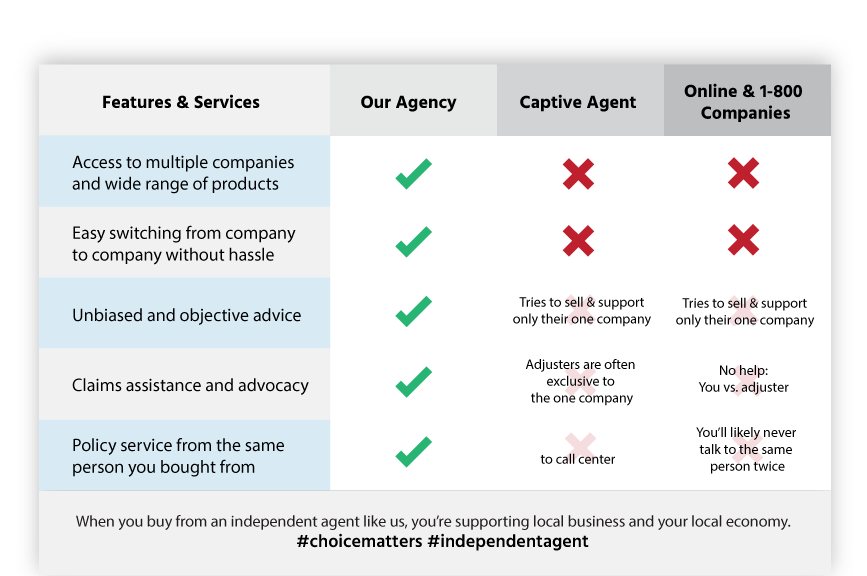 If you'd like to get started with a complimentary quote and/or policy review, we'd be happy to help you any way we can. Simply complete the fields below to get started online in a matter of seconds.
We appreciate the opportunity to help you, and look forward to servicing your insurance needs! Feel free to call us directly if you have more detailed questions.